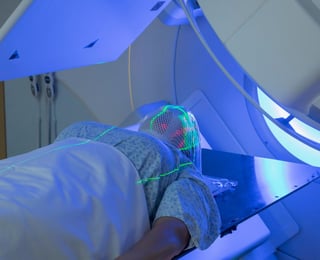 Your treatment plan will depend on many factors, including the exact location of the tumor, the stage of the cancer, as well as your age and general health. Treatment for head and neck cancer can include radiation therapy, chemotherapy, targeted therapy, or a combination of treatments.
Advances in radiation technology have given us the ability to pinpoint cancer and avoid or minimize damage to surrounding healthy tissue during treatment. One of the techniques we use to accomplish this is Intensity-modulated radiotherapy (IMRT). This radiation technique allows us to safely deliver precise radiation doses to a tumor while minimizing the dose to surrounding normal tissue.
More information about specific types of head and neck cancers can be found in the following summaries:
Patients diagnosed with HPV-positive oropharyngeal cancer may be treated differently than those with oropharyngeal cancers that are HPV-negative. Recent research has shown that patients with HPV-positive oropharyngeal tumors have a better prognosis and may do just as well on less intense treatment.
What are the side effects of treatment?
Together, we will consider any possible side effects when planning your course of treatment and discuss how to prevent or deal with them. The goal of treatment for head and neck cancers is to control the disease, but we are also concerned about preserving the function of the affected areas as much as possible, and helping you return to normal activities after treatment.
Patients who receive radiation to the head and neck may experience redness, irritation, and sores in the mouth, a dry mouth or thickened saliva, difficulty in swallowing, changes in taste, or nausea. Patients may also experience loss of taste, which may decrease appetite and affect nutrition. Depending on the treatment, some patients may also notice swelling or drooping of the skin under the chin and changes in the texture of the skin. The jaw may feel stiff, and you may not be able to open your mouth as wide as before treatment.
Patients may benefit from meeting with our nutrition specialist before and following treatment. Learn more about our support services.