Michael Aliotti is about to attempt something great. Something most people will never even consider. A feat one might think is downright crazy.
The software engineer and father of two (soon to be three!) will take on the challenge of setting a new Guinness World Record of completing as many burpees as possible in 12 hours on Friday, September 23, at RENA Fitness in Eugene.
"When most people hear the word burpee, they cringe or they ask, 'Why would you want to do that to yourself?" Michael says. "I like taking on difficult challenges."
But it goes much deeper than that. Michael is doing this in honor of his father-in-law, Joe, who is battling brain cancer.
"He has continued to fight and has surpassed the normal life expectancy for someone with this type of cancer," Michael says. "When I think of all the things he's had to endure and fight through to get where he is today, he inspires me."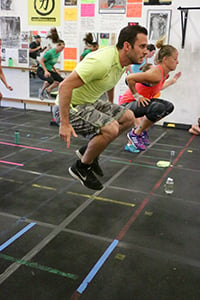 When Michael decided to make the world record attempt (the current 12-hour record is 6,800 burpees), he knew it would require a lot of time training, both physically and mentally. But he also knew he didn't want his feat to be just about him.
"The record is a secondary thing. I want to drive some awareness and make a difference in the lives of those around me," Michael says.
Now known as Burpees Beat Cancer, Michael has turned his physical feat into a fundraiser to benefit Oregon Cancer Foundation (OCF). OCF provides stopgap financial assistance to Lane County residents and individuals receiving cancer-related services in Lane County—help that is delivered to patients in ways it's needed most, like gas money to get to treatment, a rent check, or money to pay a utility bill or buy groceries.
"We are all interconnected in so many ways, especially when it comes to cancer," Michael says. "Oregon Cancer Foundation provides real help when people need it most. This is an opportunity for me to help my father-in-law and others like him battle something that is scary and life changing."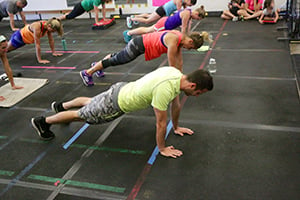 Why burpees?

The burpee has been around since 1939, when Royal H. Burpee invented the bodyweight movement as a quick, simple way of administering fitness tests. The basic movement is performed in four steps and known as a "four-count burpee":
• Begin in a standing position.
• Drop into a squat position with your hands on the ground. (count 1)
• Kick your feet back into a plank position, while keeping your arms extended. (count 2)
• Immediately return your feet to the squat position. (count 3)
• Jump up from the squat position (count 4)
It is a challenging movement to do in short repetitions—to do thousands of burpees for hours on end, is extremely taxing.
Michael is learning how to balance his hydration and nutrition to avoid muscle cramping. It requires plenty of planning and commitment. When things get difficult, he focuses on why he's doing this.
"As physical and sometimes as painful as this is, there are people going through things much more difficult. They're fighting cancer and dealing with things that are tougher than what I'm putting myself through."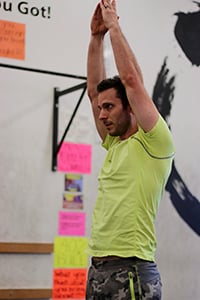 Eye on the goal
Michael's dad, Nick Aliotti, is a retired collegiate and NFL football coach and a household name to Oregon Duck fans.
Throughout his dad's career, Michael developed a unique perspective on physical competition. He learned from a young age that achieving greatness takes hard, sometimes grueling work. To succeed, you must be willing to endure failure. And to accomplish your goals, you must persevere—through the good times and the bad. Lessons, Michael says, that he tries to apply to other areas of life.
"No matter what we're facing, we need to be patient and be persistent and keep moving forward. Good things can happen when you do that. For me, at the end of the 12 hours, I hope to lift my head up and see that I've done it. To see that I've helped others in my community."