Melanoma Removal Surgery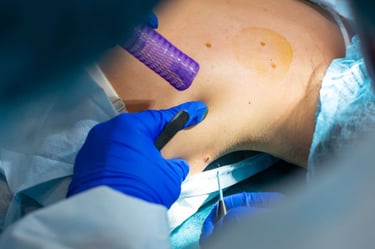 Surgery to remove the tumor is the primary treatment of all stages of melanoma. The doctor may remove the tumor as well as check to see if the cancer has spread to the lymph system.
Wide local excision: Surgery to remove the melanoma and some of the normal tissue around it. Some of the lymph nodes may also be removed.
Lymphadenectomy: A surgical procedure in which the lymph nodes are removed and a sample of tissue is checked under a microscope for signs of cancer.
Sentinel lymph node biopsy: The removal of the sentinel lymph node (the first lymph node the cancer is likely to spread to from the tumor) during surgery. A radioactive substance and/or blue dye is injected near the tumor. The substance or dye flows through the lymph ducts to the lymph nodes. The first lymph node to receive the substance or dye is removed. A pathologist views the tissue under a microscope to look for cancer cells. If cancer cells are not found, it may not be necessary to remove more lymph nodes.
Skin grafting (taking skin from another part of the body to replace the skin that is removed) may be done to cover the wound caused by surgery.
Chemotherapy for Melanoma Treatment
Chemotherapy is a cancer treatment that uses drugs to stop the growth of cancer cells, either by killing the cells or by stopping them from dividing. When chemotherapy is taken by mouth or injected into a vein or muscle, the drugs enter the bloodstream and can reach cancer cells throughout the body. This is called systemic chemotherapy.
When chemotherapy is placed directly into the spinal fluid, an organ, or a body cavity such as the abdomen, the drugs mainly affect cancer cells in those areas. This is regional chemotherapy.
One type of regional chemotherapy used for melanoma patients is used to inject the anticancer drugs directly to the arm or leg the cancer is in. The flow of blood to and from the limb is temporarily stopped with a tourniquet. A warm solution with the anticancer drugs is put directly into the blood of the limb. This gives a high dose of drugs to the area where the cancer is.
The way the chemotherapy is given depends on the type and stage of the cancer being treated.
Even if the doctor removes all the melanoma during surgery, there can be some left that can't be seen. Some patients may be offered chemotherapy after surgery to kill any cancer cells that are left. Chemotherapy given after surgery, to lower the risk that the cancer will come back, is called adjuvant therapy.
Radiation Therapy
Radiation therapy is a cancer treatment that uses high-energy X-rays or other types of radiation to kill cancer cells or keep them from growing.
Biologic Therapy for Melanoma
Biologic therapy is a treatment that uses the patient's immune system to fight cancer. Substances made by the body or made in a laboratory are used to boost, direct, or restore the body's natural defenses against cancer. This type of cancer treatment is also called biotherapy or immunotherapy.
Interferon and interleukin-2 (IL-2) are types of biologic therapy used to treat melanoma. Interferon affects the division of cancer cells and can slow tumor growth. IL-2 boosts the growth and activity of many immune cells, especially lymphocytes (a type of white blood cell). Lymphocytes can attack and kill cancer cells.
Tumor necrosis factor (TNF) therapy is a type of biologic therapy used with other treatments for melanoma. TNF is a protein made by white blood cells in response to an antigen or infection. Tumor necrosis factor can be made in the laboratory and used as a treatment to kill cancer cells.
Targeted Therapy for Melanoma
Targeted therapy is a type of treatment that uses drugs or other substances to identify and attack specific cancer cells without harming normal cells. The following types of targeted therapy are being used in the treatment of melanoma:
Monoclonal antibody therapy: A cancer treatment that uses antibodies made in the laboratory, from a single type of immune system cell. These antibodies can identify substances on cancer cells or normal substances that may help cancer cells grow. The antibodies attach to the substances and kill the cancer cells, block their growth, or keep them from spreading. Monoclonal antibodies are given by infusion. They may be used alone or to carry drugs, toxins, or radioactive material directly to cancer cells. Monoclonal antibodies may be used with chemotherapy as adjuvant therapy. Ipilimumab is a monoclonal antibody used to treat melanoma.
Signal transduction inhibitors: A substance that blocks signals that are passed from one molecule to another inside a cell. Blocking these signals may kill cancer cells. Vemurafenib is a signal transduction inhibitor used to treat advanced melanoma or tumors that cannot be removed by surgery.
Oncolytic virus therapy: A type of targeted therapy that is being studied in the treatment of melanoma. Oncolytic virus therapy uses a virus that infects and breaks down cancer cells but not normal cells. Radiation therapy or chemotherapy may be given after oncolytic virus therapy to kill more cancer cells.
Angiogenesis inhibitors: A type of targeted therapy that is being studied in the treatment of melanoma. Angiogenesis inhibitors block the growth of new blood vessels. In cancer treatment, they may be given to prevent the growth of new blood vessels that tumors need to grow.
The Latest Melanoma Treatments at WVCI
Cancer researchers have developed new treatments for melanoma that are giving new hope to skin cancer patients with this type of skin cancer. Watch the video below to learn more about how the skin cancer doctors at Willamette Valley Cancer Institute, including Dr. Keith Wells, help treat skin cancer.