Lynn Samuels is on what she calls a "medical safari."
She and her husband, Loren, are temporary transplants in Eugene. They came here following an extensive search for the specialized care Lynn needed, which they found at Willamette Valley Cancer Institute and Research Center, under the care of Dr. Jeff Sharman and Dr. Haidy Lee.
"I think a person really needs to get proactive and educate themself and look at all the options. That's what I did," Lynn said.
Lynn's medical journey began when she noticed what, she thought, was an insect bite that wasn't healing. She went to see a hematologist who specializes in Lyme disease near her home in San Francisco. She received her test results on the day of her wedding anniversary. Lynn didn't have Lyme disease. She has chronic lymphocitic leukemia (CLL), a cancer of the blood and bone marrow.
"And so began the adventure that led me to Eugene," Lynn recalls. It's not an adventure Lynn and her husband would have chosen. Over the last five years, it's taken them from the West Coast, to the East Coast and back again.
Lynn's CLL was progressing slowly, as the disease often does, so she spent several years in active surveillance, in a "watch and wait" pattern, before enrolling in the first of two clinical trials at the National Institutes of Health in Bethesda, Maryland. It was during one of those trials that a CT scan revealed Lynn's lung cancer. To date, she's undergone four surgeries to remove tumors that continue to develop.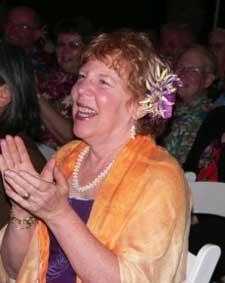 "I call it tumor Whack-A-Mole," Lynn said with a light laugh. "It's like that game where you whack one of the targets, then the next and the next, only to have more pop up."
Back home in San Francisco, doctors told Lynn it was time to focus on her CLL. After doing extensive research online, and following his blog, there was no doubt in Lynn's mind that she wanted to see Dr. Jeff Sharman, Director of Research at Willamette Valley Cancer Institute.
"He knows, I believe, all there is to know about CLL. He is a great educator, as well as clinician and researcher," Lynn said.
Dr. Sharman is one of the first researchers involved in clinical trials for the now FDA-approved drug Gazyva, which Lynn was prescribed. And ten of the first 80 patients to participate in that clinical trial did so under Dr. Sharman's supervision at WVCI.
About Gazyva
Gazyva is the first drug with breakthrough therapy designation to receive FDA approval and works by helping certain cells in the immune system attack cancer cells. Gazyva is intended to be used with chlorambucil, another drug used to treat CLL.
For Lynn, Gazyva has been an easy drug to take. "I've had no problems with the infusion and no side effects, except a lowered immune system. Because of that, I'm cautious about going out in crowds. I'm giving my body time to build itself back up."
Team approach to care
While Lynn is being treated for her CLL, she's also receiving stereotactic body radiation therapy (SBRT) to target her lung cancer under the care of Dr. Haidy Lee, WVCI's director of radiation oncology.
SBRT uses advanced imaging techniques to deliver a targeted radiation dose to a tumor with millimeter precision, and with fewer treatments. It also significantly reduces the damage to healthy lung tissue.
"I'm incredibly fortunate to be in a place where I can receive quality and knowledgeable care for both types of cancer at the same time," Lynn said. "It's been wonderful."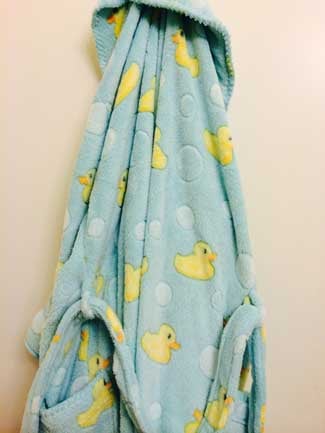 The Duck robe Lynn bought in Eugene before the Rose Bowl
A new perspective
Lynn says she and Loren are enamored with the natural beauty of Eugene. Living the past several months in an apartment near the Delta Ponds, they're soaking in the mild weather and the scenery.
"We go on two-to-three mile walks several times a week," Lynn says. "The waterfowl have been amazing. The osprey are coming around now, and we saw our first bunch of goslings a few days ago."
The couple, married 43 years, says they're fortunate to have been able to relocate so Lynn could receive care at WVCI. Because their computer and consulting business is handled mainly online, their work is transportable.
Listening to Lynn share her story and to hear the light-heartedness and sometimes laughter behind her words, it's only natural to wonder how she stays so positive.
"I've been very fortunate to have role models in my life who've taught me how to 'keep on keepin' on,'" Lynn said. "I'm an upbeat extrovert who tries to educate herself and make the best choices. I try to avoid obsessing and concentrate on centering my life around things that bring me joy."
Lynn credits the positive support she's received from WVCI's staff in helping her stay optimistic and feeling good. Her CLL has responded well to treatment and the two tumors in her lung have shrunk significantly. She and Loren are preparing to head home to San Francisco, and she says she will forever be grateful for the "medical safari" that helped them discover the true beauty of Eugene.
"How did such a small community end up with so many great medical resources? It's just incredible," Lynn said. "I tell everyone I meet what a great experience I've had at WVCI. Their collaborative care approach is exactly what I was looking for."
Doctors will continue to monitor Lynn's condition, and she'll undergo more imaging tests in three or four months. In the meantime, Lynn wants to get back to dancing the hula and enjoying more of what life has to offer. And no matter where that takes her, she says one thing is for sure—Eugene will forever be one of her medical homes.