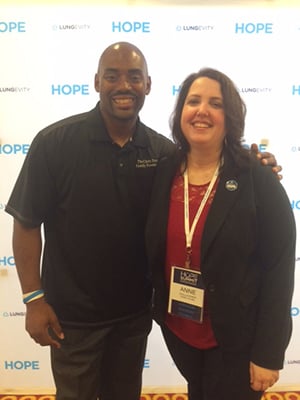 There's a saying in the lung cancer community: If you have lungs, you can get lung cancer.
It happened to Anne Gallagher, a patient navigator at Willamette Valley Cancer Institute, and according to the American Lung Association, there are more than 400,000 Americans living today who have been diagnosed with lung cancer.
But there is hope, says Anne, who recently returned from this year's LUNGevity Hope Summit in Arlington, Virginia.
The national gathering, which is held each year in May and provides support for survivors, caregivers, and advocates and is an opportunity to give voice to their experiences. It's also a chance for survivors to engage in educational sessions on topics like research, immunotherapy, living with lung cancer, nutrition, and becoming empowered advocates.
Anne with Chris Draft, former NFL player and founder of the Chris Draft Family Foundation
"Five years ago, I attended my first Hope Summit, and there were 40 people there," Anne says. "This year, there were around 300."
Growing attendance at the Hope Summit is a testament to the fact that more people diagnosed with lung cancer are living longer as a result of breakthroughs in treatment. And the speed at which scientists and researchers are beginning to understand this disease continues to accelerate.
To put it into perspective: In 2006, just one drug received FDA approval for the treatment of lung cancer. In 2015, six drugs were approved.
"They are starting to identify the mutations behind lung cancer and they're developing drugs to target those mutations," Anne says.
With better prognosis comes a greater need for resources to help lung cancer patients maintain and improve their quality of life—a topic that's important to Anne, both as a survivor and as an advocate for patients at WVCI.
During the Hope Summit, Anne led breakout sessions with attendees, sharing what she has learned in her 14 years of survivorship, and offered information to help them navigate their journey.
"I tell patients to be proactive and ask for what you want," Anne says. "Many of these patients are going to be living with lung cancer as a chronic illness. So, how do you manage your life and having cancer? The time they spend in the clinic maybe a couple of days a month, but the rest of their time is spent outside the clinic."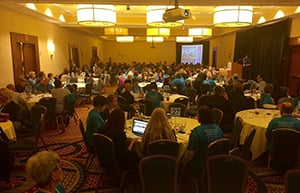 Approx. 300 lung cancer survivors, caregivers and advocates attended Hope Summit 2016
As a patient navigator, Anne helps patients connect with resources, like LUNGevity's LifeLine program, which pairs lung cancer survivors with those newly diagnosed, and the Clinical Trials Ambassadors program, which makes it possible for people who have participated in a lung cancer clinical trial to offer encouragement to patients who are considering enrolling in a study.
Being an advocate in the lung cancer community and participating in the annual Hope Summit is one more way that Anne can share information with those who need it.
"I'm able to bring that knowledge back to WVCI, where we offer great resources and where we're seeing advancements of the science behind the disease. Knowing that, I can go into a room and tell a patient there really is hope."