Linda Pernell is looking forward to her 55th high school reunion this summer in southern Oregon, maybe more so than the average person.
After being diagnosed with metastatic non-small cell lung cancer (NSCLC), she wasn't sure how much time she had left.
"I've been through a lot and I feel like a different person," Linda says, recalling the last several years—the physical toll of the cancer and the desperate search for an accurate diagnosis.
Linda's prognosis improved dramatically after she began receiving the targeted therapy alectinib under the care of Dr. Benjamin Cho at Willamette Valley Cancer Institute three months ago. The drug received FDA approval in December.
A PET scan revealed that tumor spots on Linda's brain had shrunk by 75 percent and tumors on her rib and vertebrae had disappeared. Linda calls it a miracle.
"I feel so fortunate. I didn't expect such dramatic results."
Linda's journey to find a successful treatment has been long and difficult, both for herself and for her daughter, Kristina Hall, who's been by her side through it all.
Searching for answers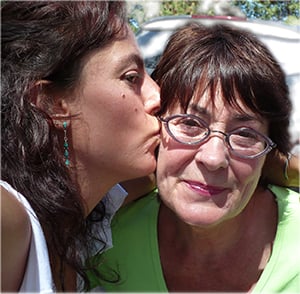 Linda was first diagnosed with lung cancer by accident in 2009 while she was living in Bend. Always conscious about her health, Linda underwent a preventative screening to detect signs of coronary heart disease. Her heart was in good shape, but the scan revealed a nodule on her right lung.
"I was shocked, and then I was angry," she says. "I'd never smoked, so I thought, 'What the heck?'"
Linda underwent surgery to remove a portion of her lung and was told her prognosis was good. Then, in 2014, doctors discovered what they believed was a neuroendocrine tumor between her ribs that would require another surgery—this time, a much more difficult procedure with a longer recovery.
Kristina encouraged her mother to get a second opinion. They traveled to see doctors in Portland and Seattle and finally at the University of Utah. That's where Linda underwent FoundationOne genetic testing to identify what was driving her cancer.
Testing the original pathology from Linda's 2009 lung cancer revealed that her new tumors were not neuroendocrine, but instead, a recurrence of her lung cancer. Testing also showed that Linda has the rare ALK gene mutation, which produces an abnormal protein that causes cancer cells to grow and spread. Fortunately, there are targeted lung cancer therapies that can treat it.
"As odd as this sounds, this really is the best time to have cancer," Kristina says. "My mom has options that weren't available even a year ago."
When Linda returned home to Bend, her doctor recommended she seek treatment at WVCI. Since she would be unable to drive back and forth, Linda made a temporary move to Eugene and lived with her son. And with daughter by her side at each appointment, she was ready for the next step.
Targeted therapy
The first months of treatment in Eugene were more difficult than Linda anticipated. She started the year on a drug called crizotinib, which targets the ALK mutation, but the side effects were severe. Scans showed that while some of her brain lesions had responded to the drug, new lesions had formed.
The turning point for Linda came in March, when Dr. Cho switched her to alectinib. This targeted therapy was granted accelerated approval for patients whose lung cancer no longer responds to crizotinib or who are unable to tolerate further treatment with crizotinib because of side effects. Alectinib is the third ALK-targeted drug approved by the FDA.
Looking ahead
For the first time in a long time, Linda is feeling good. She remains on alectinib and recently returned to Bend. She is thankful to the staff at WVCI for the care and treatment she received, and is deeply appreciative of her daughter for encouraging her to question the diagnosis she received and her treatment options.
"I believe in getting second and even third opinions," Linda says. "My advice to others is to keep looking for answers and to be informed. You are your best advocate."
She's excited to get back to one of her favorite daily activities, walking her 75-pound German Wire Hair Pointer. For the first time in months, she has enough energy and stamina to take those walks with her four-legged friend on her own.
"It's nice to be home; it's been a long time," Linda says.
She's also looking forward to that high school reunion and the classmates she's kept in touch with for five decades.
She remains optimistic that she will be able to manage her disease going forward.
"There is so much happening right now in cancer research and so many other drugs coming down the pipeline. That gives me hope."