High school senior Madison O'Bannon attracts curious eyes when she steps into the lobby of Willamette Valley Cancer Institute at RiverBend. Perhaps what draws the most attention are the big bags stuffed with pillows that she carries.
Madison and her grandmother, Fredericka Smithies, delivered 21 handmade pillows to the chemotherapy room to help make patients more comfortable during their treatments this month.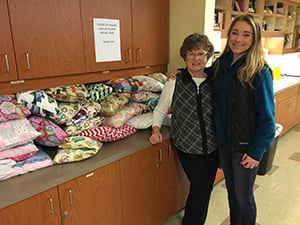 "It's really special to be able to give back to the patients," Madison says. "I've known people who've had cancer and have come here for treatment. It makes me feel like I'm helping in a small way."
Fredericka, known to most as Freddie, first taught Madison to sew when her granddaughter was just three years old. Helping others is something Fredericka instills in all her sewing students.
"On our way up here, we passed a patient in the elevator, and she asked what was in the bags," Fredericka says. "When Madison told her it was pillows for the chemotherapy room, she said, 'Oh, thank you so much. You don't know what it means to us.'"
While more attention is focused on giving during the holidays, acts of goodwill happen at WVCI throughout the year.
A couple of years ago, the nursing staff in the infusion room at RiverBend saw a need and started a clothing closet, supplying undergarments and sweatpants for patients who unexpectedly needed them.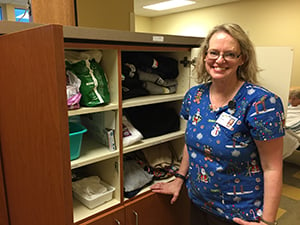 "We sometimes have patients who have bladder issues," registered nurse Joanne Middleton says. "It can take hours for patients to receive their treatment, and sometimes they are given medications that cause them to relax so much that accidents happen. They are thrilled when they open up the closet and see that there are supplies on hand."
Joanne says she and the chemotherapy room staff run the clothing closet because their patients are important to them, and they want to help.
"Going through chemotherapy is already a difficult thing for patients to deal with," Joanne says. "We just want to make things as easy as possible for them."
That's also why Madison makes pillows with her grandmother and brings them to WVCI when they're needed.
"It's so worth it to give back," Madison says. "Even the smallest gesture can mean a lot to someone in a particular moment. And it just feels good."