In a community kitchen near downtown Eugene, 14-year-old Eli Panero chops garlic. A lot of garlic. His eyes periodically scan the the counter in front of him for the ingredients he needs to create the recipe, Chicken with Sun-Dried Tomato and Olive Pesto.
"I'm really interested in learning how to cook," he says. "I'd never done it until I came here."
Behind him, Nicolas and Henry, two 16-year-old students from South Eugene High School, are donning aprons and asking kitchen manager Cody Fuqua what task they should start on first.
This is a typical Monday afternoon at Positive Community Kitchen (PCK), a donation-supported program where teen and adult volunteers come together, alongside trained chefs, to prepare organic meals for people fighting life-threatening illnesses. Many of those free meals have been made for patients of Willamette Valley Cancer Institute.
This week, the volunteers are preparing soups, salads and entrees for 13 families.
"I'd enjoy this no matter who we were cooking for," Henry says. "But knowing our meals are going to people who are dealing with something so tough, makes it even more meaningful."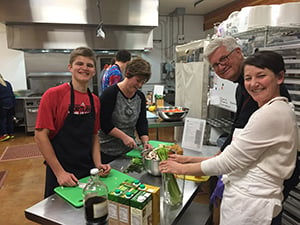 An emotional delivery
After the meals are prepared, volunteers, affectionately called "delivery angels," take them to families' homes, where they are met with gratefulness, and often tears, for their showing of support.
PCK program coordinator Andrea Wolf knows what it feels like to receive such a gift. She was diagnosed with Primary CNS Non Hodgkin's Lymphoma in January 2013. After undergoing surgery to remove a tumor in her brain, she endured six months of intense chemotherapy. During which, friends and family brought meals to her and her husband, which Andrea says not only nourished her body, but also her soul.
"It's difficult to shop and cook when you're not feeling well. Knowing that there was a group of people cooking for me and sending their love through those meals was incredible. Going through cancer is a very scary time and that simple gesture makes a world of difference."
Following her treatment, Andrea wanted to offer something similar to others. When she crossed paths with Positive Community Kitchen, and learned of the impactful work they were doing, she immediately joined the team.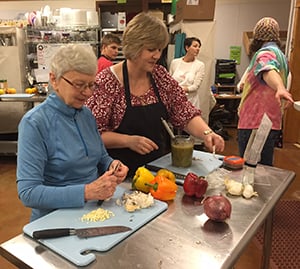 A healthy formula
To create well-balanced, nutritionally rich meals, PCK embraces the American Institute of Cancer Research's New American Plate concept, with 2/3 of each meal consisting of vegetables, legumes and whole grains. In addition, PCK focuses on foods that are locally grown.
Those who receive the meals get the nutrients needed to aid healing, while teen volunteers learn how to prepare foods in new ways.
"They're learning that cooking doesn't have to be complicated, and that good healthy food can taste great," Cody says. "And, at the same time, they learn that these meals fulfill an important need in the community."
"We regularly receive thank you cards from families, telling us how overwhelmed they are by the support," Andrea says. "We all feel fortunate to be a part of that."
Next month, PCK will expand its program, preparing meals two days a week to serve more people. The program is currently recruiting teen and adult volunteers, as well as people who would like to deliver the meals.
To volunteer or make a donation to support the program, click here.