The staff at Willamette Valley Cancer Institute would like to say thank you for the incredible gifts we recently received from the community.
Each year, we provide knitted hats to our patients during the cold winter months, which make a big difference, especially for those who've lost their hair due to chemotherapy.
"Our patients are welcome to take any hat they want. It's still cold out, and you lose a lot of heat through your head," says WVCI patient navigator Anne Gallagher.
In January, our supply of hats dwindled and our shelves were nearly bare, so we asked for hat donations on the WVCI Facebook page. A reporter at KEZI 9 News, Amber Wilmarth, saw our post and offered to share our need with viewers. The request spread fast, on TV and social media, and donations poured in from all over Oregon, as well as California, Colorado, Georgia—even Alberta, Canada.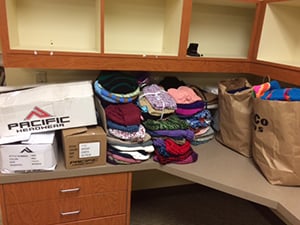 We would also like to thank Pacific Headwear in Coburg, Oregon. The company has brought in several boxes of donations, and it has helped tremendously in filling our need for men's hats. Our shelves are full once again!
This outpouring of support means a lot to our patients, including Bonnie Pennoyer, who, when interviewed by Amber, said, "I want to acknowledge all the care and commitment that people make to us. The generosity means so much."
Anne agrees. "I am so grateful to the community and the support they've shown to our patients. It's been such a boost to our staff to see the community come out in droves. It's incredibly touching."